By
Victoribus Spolia
- 17 Nov 2017 13:54
- 17 Nov 2017 13:54
#14863492
[WARNING: IF YOU ARE NOT TRAINED IN LOGIC OR PHILOSOPHY, THIS THREAD MAY BE DIFFICULT FOR YOU, THE AUTHOR OF THE OP WOULD APPRECIATE INFORMED READERS AND POSTERS IF POSSIBLE. THANKS. ALSO: TRIGGERING MAY OCCUR, YOU'VE BEEN WARNED]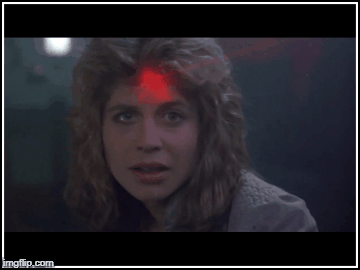 via Imgflip GIF Maker
I. Introduction
Most have either seen or heard of the movie "The Terminator," in that movie the Terminator was sent back in time for the ultimate purpose of eliminating John Connor, of which the means was assassinating Sarah Connor (his mother). But answer me this: Would "The Terminator" have succeeded in eliminating John Connor if he had disguised himself as a gynecologist and implanted a permanent IUD (birth control device) in Sarah Connor? The answer is as obvious as my syllogism below, if you want to eliminate people who would otherwise exist (given a natural course of events), then practice birth control. If intentionally eliminating people is murder, then birth control must be regarded as a type of murder in the same way the Terminator's ultimate goal was to murder John Connor. If this is the case, then people who use birth control are no less nefarious in their intentions when practicing contraception than the Terminator, whether you call it murder or not, and that is a matter of simple logic as I shall now demonstrate.
II. The Pronatalism Master Argument
Syllogism One
Premise One.
All (Intentionally Non-Procreative Sexuality) is (Potential Person Destroying).
[All X is Y]Premise Two
. All Non-Potentials Are Non-Actuals.
Corollary To P2:
All (Potential Person Destroying) is (Actual Person Destroying).
[All Y is B]Conclusion.
All (Intentionally Non-Procreative Sexuality) is (Actual Person Destroying).
[All X is B]
III. Definitions and Explanations
Terms To Be Defined:
1.
Destroying:
Stopping, or causing to cease, what would otherwise exist given a natural course of events (all things being equal).
2.
Intentionally Non-Procreative Sexuality:
Denotative:
(1) Heterosexual Contraception or Pregnancy Prevention, (2) Bestiality, (3) Homosexuality, (4) Pedophilia. et. al.
Premise One Explanation:
1
- All intentionally procreative sexual acts are transitional acts of a potential person (who's existence is implicit in procreative or "natural" sexual relations) being made into an actual person. This is given by (1) The natural course of events, and (2) all things being equal.
2
- All intentionally non-procreative sexual acts are purposefully disruptive acts of stopping a potential person from transitioning into an actual person through procreative or "natural" sexual relations. This is given because to purposefully engage in such acts is to stop the natural consequence of procreation which is transitioning a potential person into an actual person.
3
- The definition of destroying is an adequate descriptor of the effect in #2 above.
Premise Two Explanation (With Corollary):
1-
For every potential-person there is a corresponding actual person. All actual persons were once potential persons who, through intentional or unintentional procreative sexuality, were transitioned (actualized) into actual persons.
2-
If there is no potential person in a given situation, then there can be no, and is no, corresponding actual person. That is, if there never was a potential person, then there could never be an actual person, for all actual persons originate from being a potential person.
3-
Therefore, to make a potential person become a non-potential person (see definition of "destroying" above) is to make the corresponding actual person to become a non-actual person. This is because, without a potential person, no actual person can come into existence by the natural order of events (see premise one explanation #1).
Conclusion:
This conclusion follows given (P1) and (P2).
If X is Y, and Y is B, then X is B.IV. Further Thoughts for Clarification
Some people may wonder what this argument implies ethically (as my above argument is not an ethical argument per se, at least not in-and-of itself), and that would depend on which ethical school one subscribes to. At the very least, most deontological schools would be forced to admit that if potential-person-destroying is inseparably connected to actual-person-destroying by force of logic, then by necessary inference contraception would have to be regarded as unequivocally immoral so long as it by definition was anti-procreative (
ipso facto
). Both the deontological schools of Divine Command (e.g. orthodox Christianity), and the categorical imperative (Kantian altruism) therefore seem obligated to the thesis that contraception should be condemned as a deviant practice.
Now when it comes to consequentialist or teleological schools (utilitarianism, egoism, etc.) it seems that at the very least they would be forced to admit what they are actually permitting (actual person destroying). They would likewise have to admit that if they so choose to promote contraception that they must also justify it on their consequential grounds in the same way as justifying certain types of murder (that is, that murder "can" be justified if it is one's self-interest or promotes the greatest pleasure for the greatest number, all things being equal).
For instance, whether or not these schools decided, by their own systems, to condone or condemn contraception is irrelevant to the fact that they must admit that it is qualitatively the same as actual-person-destroying (given my argument). Hence, contraception must be justified in these schools via the same arguments as any other acts used for the purpose of destroying life (i.e permissible abortion, euthanasia, etc.). Now as a point of note, these schools (all of them) are forms of what might be called "empirical ethics" and should all be dismissed anyway since to infer obligation from observation is always a fallacy (as no necessary connection exists between "is" and "ought"---see Hume on the naturalistic fallacy ); therefore, since empirical ethical schools are always fallacious one is left with deontology and we have already seen that the deontological schools must forbid contraception (if they still allow for logic, as many Christians seemed to have abandoned in favor of mere sentimentality or cultural relevance).
Now, before concluding this article, it must be made clear what is not meant by contraception and what is:
Pregnancy prevention
is not:
the elimination of circumstances by which procreation and conception could take place,
but
the use of semen for non-procreative purposes when procreation was not only possible but the circumstances also permitted it.
Thus,
homosexuality and bestiality are anti-procreative as they are a volitional deviation from natural sexuality, they are a wasting of semen that could be used for procreation (no circumstance would make this permissible, except the possible non-existence of all women in the universe).
Similarly,
contraception is a wasting of semen within the bounds of marriage wherein a heterosexual couple could produce offspring but instead deviates from that practice.
Contraception, homosexuality, and bestiality must, therefore, all be regarded as anti-procreative on these aforementioned grounds.
Now,
within the context of heterosexual marriage
, if a couple is unable (by the observable laws of nature) to produce offspring (I.e. during pregnancy, menstruation, or post-menopause)
then non-procreative sex acts between them would not be ipso facto immoral because such acts would not be anti-procreative or an act of pregnancy prevention
(no circumstance of actualization exists and therefore the semen may be used but is not "wasted").
Hence, getting your dick sucked when your wife is on the rag, is pregnant, is breastfeeding (for most women) or is post-menopausal, would not be an anti-procreative sex act under the above definitions, no matter whether she spits or swallows
"I distrust every idea that doesn't seem obsolete and grotesque to my contemporaries." - Nicolas Gomez Davila

"Truth is the cry of all, but the game of few." - Bishop George Berkeley