- 24 Oct 2014 12:10
#14480036
OCCUPY DEMOCRACY
Parliament Square, 17th to 26th October
Skip to content
ABOUT GET INVOLVED PROGRAMME CAMP UPDATES VIDEOS AND OTHER MEDIA
VIDEOS
WRITTEN ARTICLES
PODCASTS
PRESS RELEASES
#OccupyDemocracy has successfully maintained a constant presence on Parliament Square despite police attempts to disrupt our peaceful protest. This Friday there is a busy day of workshops with great speakers on the theme of war and peace. Join us on Parliament Square to learn and participate, and to give invaluable support to our campaign for a democracy that serves the public interest instead of corporations, banks and a tiny wealthy elite.
Important note: Some #OccupyDemocracy participants have chosen to put themselves in a position where they have been arrested in order to make a political point. This is by no means necessary to join us. Simply attending our assemblies or workshops is unlikely to create a sudden risk to your safety or liberty.
Schedule for Friday
See @occupylondon for latest live streams
Recent posts :
#OccupyDemocracy: Churchill plinth occupied almost 24 hours; mass demo 6pm Thursday, Arrested Green Jenny Jones plus Caroline Lucas MP to speak today
Schedule for Sunday, 26th of October
Schedule for Saturday, 25th of October
Schedule for Friday, 24th of October
Schedule for Thursday, 23rd of October
Schedule for Wednesday, 22nd of October
WHAT OCCUPY DEMOCRACY IS ABOUT
DEMAND REAL DEMOCRACY. OCCUPY PARLIAMENT SQUARE.
Our time is now.
In Hong Kong, hundreds of people are fighting courageously for the right to a real vote. They know that a system where candidates are decided by the state is no democracy.
In Scotland, 45% of people rejected Westminster rule. They know that a system that takes the power to make local decisions out of their hands is no democracy.
We know that democracy is not just about having a vote every four, now five years. It is about having the power to make your voice heard. We know that a government that answers to profit before people is no democracy.
In the UK today, record numbers of people are homeless, record numbers rely on food banks to feed their families, and record numbers face fuel poverty as energy prices rise eight times faster than wages.
At the same time, inequality is back on the rise, making us one of the most unequal countries in the developed world. The amount we ask businesses to contribute to our social services in tax is set to be the lowest of any of the G20 countries. Tax evasion and avoidance costs the UK £95bn a year, enough to fund the NHS in England.
Nobody voted to be made homeless, hungry or unemployed. It is clear whose voices are being heard.
We need to start a movement for real democracy. The voices of the majority have been ignored for too long. We need to give ourselves the tools to hold our politicians to account, and to end the corporate lobbying power that drowns our voices out.
To do it, we need a movement that cannot be ignored. That is why we are occupying Parliament Square from the 17th – 26th of October, to begin a fight for a real democracy (see the original call to action). There, in the shadow of Nelson Mandela's statue, we will transform the Square into a civic space where we can re-envision what our society could be like, with talks, workshops, community assemblies, music and theatre.
There is one thing that every successful social justice movement has had to overcome: the prevalence of the belief that the status quo is how it has to be. That there is no alternative. All of us can feel weakened and ground down by that belief, but all of us must have the courage to overcome it. To imagine a different future for ourselves. To show each other that there is an alternative. Because the current system relies entirely on our believing that there isn't.
The austerity measures imposed on us for the sake of economic growth, our continued reliance on dirty coal and oil, our hospitals closing, our transit systems worsening while fares rise, our children attending under-funded schools with exhausted underpaid teachers – we only accept these things because we let ourselves believe there is no other way of doing things.
But please, join us for the Occupation. Try imagining there is another way. Do it with people you love, people you trust, with experts and activists and people to be inspired by. If you're reading this, you're invited. Your friends, family, colleagues are invited. Now is the time to produce our vision of a sane, workable, inspiring alternative, together. Come to learn, discuss and participate. Dare to believe that there is an alternative.
We are the ones we've been waiting for.
Rise, like lions after slumber
In unvanquishable number!
Shake your chains to earth like dew
Which in sleep had fallen on you:
Ye are many—they are few!
GET INVOLVED
The planning of the camp and keeping it alive depends on the help of our volunteers. We welcome anybody to join, and can find something useful to do for any skill set. To find out the details for our next meeting, or to suggest a way in which you can give a hand, get in touch via email:
[email protected]
. Alternatively, you can join in the work once the camp has started.
The occupation will be an alcohol-free, safe space and any major decisions will be achieved through consensus.
We have produced a flyer and a poster that can be freely distributed. The most recent updates and information can be most easily found through our social-media presence.
Join our Facebook event and share the content
Follow us on Twitter
PROGRAMME
We are putting together a 9 day programme of speakers, workshops and assemblies. Each day has a different theme. Programme subject to change. Check for updates.
Friday 24th of October: War & Peace
Saturday 25th of October: Solutions
Sunday 26th of October: Means of change
The schedule for past days:
Friday 17th of October: Opening event
Saturday 18th of October: A Revolution in Democracy
Sunday 19th of October: Money, Tax & Finance
Monday 20th of October: Public services
Tuesday 21st of October: Public services 2
Wednesday 22nd of October: Life, Environment & Equality
Thursday 23rd of October: Justice, Equality and the Media
Share this:
Facebook2K+Twitter3K+GoogleEmail
This is a photo my son took this morning.....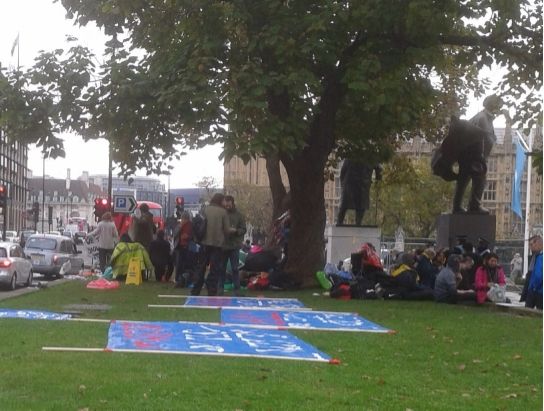 IF I HAD UNDERSTOOD THE SITUATION A BIT BETTER I SHOULD HAVE PROBABLY JOINED THE ANARCHISTS
George Orwell