- 05 Mar 2020 02:33
#15072322
I honestly find this sort of news to be quite hopeful because it is something that can directly relate itself back to economies that are producing huge burdens on the environment and also is something which can eventually be incorporated in the developed world:
The sleek Dwarka metro station towers against the industrial landscape of Delhi, a busy stop on the city's modern train network, which moves millions of people every day. Just outside, the road is bustling with rickshaws, ready to drive passengers to their next stop for as little as 20 rupees (21p). Moving on three wheels is a popular way of navigating the Indian capital and other major cities, where huge traffic jams mean you can get stuck at any point of the journey if you are traveling by car.

For long distances, you can hop on an "auto" rickshaw powered by a conventional engine; for a short trip there are pedal and electric rickshaws. And while e-rickshaws are still a relatively rare sight, the humble three-wheeler is ushering in India's electric revolution.

In regions such as Europe and China, cars dominate the electric vehicle market. In contrast, "Indian electrification is not a car story at all. It's an e-rickshaw and a two-wheeler story," says Akshima Ghate, a lead researcher at the non-profit Rocky Mountain Institute based in Delhi. This perhaps isn't surprising as car ownership in India is low, at around 20 cars per 1,000 people, compared with more than 800 per 1,000 in the United States.

Transitioning to electric mobility is a particularly appealing prospect in India because it addresses several problems at the same time – air pollution first and foremost. Every year, new scientific evidence puts the contribution of air pollution to early mortality into sharper focus; the State of Global Air report estimates that in 2017 alone, air pollution contributed to 1.2 million premature deaths in India. The life of a child born today in India will be an average of two years and six months shorter than it would have been without toxic air, due to the increased risk of conditions such as cancer, lung and heart disease, according to the State of Global Air. Children in buggies and prams also receive a higher dose of air pollution than adults due to their low elevation above the ground.

The fact that there is a real incentive on the local population to make the jump is a real benefit. We are not even asking people to become conscientious environmentalists, we are asking them to think of their own lives in the city.
This is powerful because many people just aren't ideological -- and that may be a good thing. It's really ideology, not so much "religion," that is a force for democide.
And there are other motivations besides health for a transition away from conventional engines. "From a policy perspective," Ghate says, "there are energy security concerns. We cannot afford to continue staying reliant [on] oil imports, it's too risky for a big economy in a big country like India."
This is always an interesting angle -- energy dependence on foreigners is not really a line that globalists like people talking about because it feeds into the traditional nationalist narratives of competition for scarce resources, but it honestly makes sense.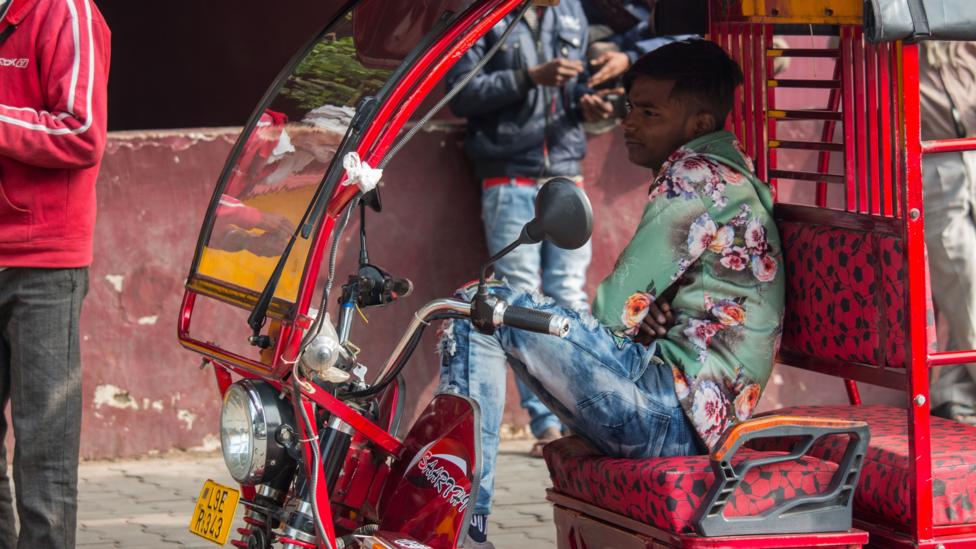 "E-rickshaws have emerged as a source of employment for many poor urban households," says Shri Prakash, a transport and urban governance expert with the Energy and Resources Institute in Delhi. "They are light, low powered and reach a normal speed of 10-15kmph (6-9mph). With a shorter trip length than autos, that are able to carry passengers up to 15km at higher speeds, e-rickshaws serve a unique and well-established market niche."
BBC
It would be easy, in this sort of economy, for the government to even incentivize people switching to electric rickshaws.
This could be a bright solution that grows over the 2020s.
Here's hoping.
August 8th, 2019