- 23 Feb 2017 14:59
#14779160
The state of the world: A global pushback against human rights
Seismic political shifts in 2016 exposed the potential of hateful rhetoric to unleash the dark side of human nature. Whether it is Trump (USA), Orban (Hungary), Modi (India), Erdogan (Turkey) or Duterte (the Philippines), more and more politicians call themselves anti-establishment and wield politics of demonization that hounds, scapegoats and dehumanizes entire groups of people to win the support of voters.

This rhetoric will have an increasingly dangerous impact on actual policy. In 2016, governments turned a blind eye to war crimes, pushed through deals that undermine the right to claim asylum, passed laws that violate free expression, incited murder of people simply because they use drugs, legitimized mass surveillance, and extended draconian police powers.

The more countries backtrack on fundamental human rights commitments at home, the less leadership we see on the world stage, with governments everywhere emboldened to join a global pushback against human rights.

This could have disastrous consequences given the already pitiful global response to mass atrocities in 2016, with the world standing by as events in Aleppo, Darfur and Yemen unfolded.

Meanwhile, several other countries carried out massive crackdowns, including Bahrain, Egypt, Ethiopia, the Philippines and Turkey. Other countries implemented intrusive security measures, such as prolonged emergency powers in France and unprecedented surveillance laws in the UK. Another feature of "strongman" politics was a rise in anti–feminist and -LGBTI rhetoric, such as efforts to roll back women's rights in Poland that were met with massive protests.
Amnesty Internationals Annual Report.(2016/2017)
https://www.amnesty.org/download/Docume ... NGLISH.PDF
Any thoughts on governments around the world depriving people of their fundamental human rights?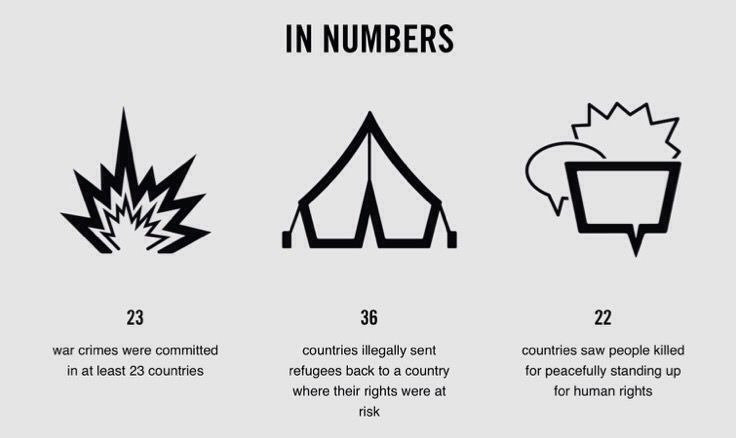 Last edited by
anarchist23
on 23 Feb 2017 15:08, edited 4 times in total.
IF I HAD UNDERSTOOD THE SITUATION A BIT BETTER I SHOULD HAVE PROBABLY JOINED THE ANARCHISTS
George Orwell