- 17 Apr 2018 15:10
#14907088
About Robert Fisk understanding of the Middle East
Osama bin Laden, man of peace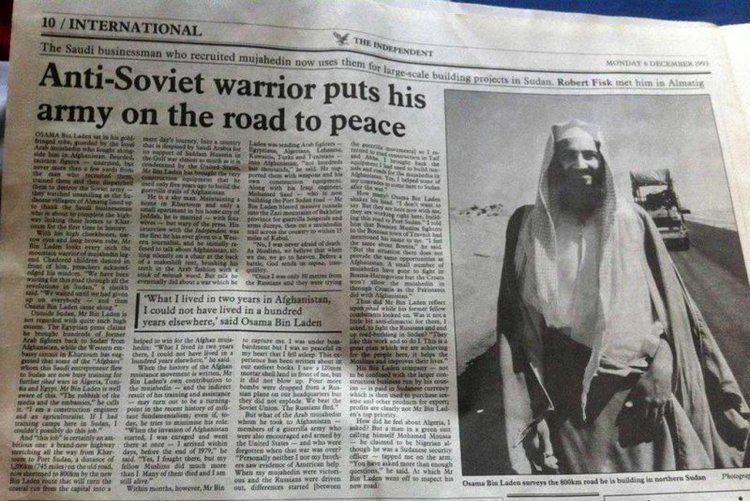 Here's an example of classic Fisk guff, as reported in Private Eye, that there are some strange discrepancies in Robert Fisk's datelines:
Sunday May 18 2003

As British hacks return from Baghdad, they have been belatedly catching up on what their rivals wrote during the war. They are surveying the dispatches of the Independent's Robert Fisk with particular interest - and some amazement. On 2 April, three busloads of foreign hacks were taken by Saddam's spin-doctors to the town of Hillah to interview wounded Iraqis in the hospital. all of them - including Fisk - duly filed pieces on what they had witnessed. But the Indie's living legend sent a second report that day, datelined "from Robert Fisk in Musayyib, Central Iraq." Very vivid it was too. "Cafes and restaurants were open, shops were selling takeaway meatballs and potatoes," he wrote. "This was not a population on the edge of starvation; nor indeed did the people appear to be frightened. If the Americans are about to launch an assault through this farmland of canals and forests of palm trees and wheat fields, it looked at first glance yesterday like a country at peace." How had all the other hacks missed this? They were under the distinct impression that they had been ferried straight from Baghdad along the motorway to Hillah and then straight back again. They remembered no detours, no stops en route and no visits to Musayyib; they thought they had been allowed to leave the buses only for their chaperoned tour of the casualty ward. How had Fisk managed to visit Musayyib? And how come the picture he gave in the Indie did not quite tally with the fact that by the time he wrote his report the Americans had taken control of the main bridge at Musayyib, and hundreds of US military vehicles were already crossing the Euphrates?
https://buzzmachine.com/2003/05/19/didn ... ir-end-up/
The Independent Admits Robert Fisk Story Was False



BY SIMON PLOSKER AUGUST 4, 2011

The following correction has been published in The Independent relating to an article by Robert Fisk on the Arab Spring:

In his Friday essay on 15 April 2011 ("The Arab Awakening – a long time coming") Robert Fisk quoted from an order said to have been issued by the Saudi Minister of the Interior, HRH Prince Nayef bin Abdul-Aziz Al Saud on 11 March, in which he alleged that Prince Nayef ordered his security forces to show no mercy and to use live rounds on unarmed demonstrators.

Although the essay was published in good faith, we now accept that the "Order" in question is in fact a forgery, and that Prince Nayef did not issue any such order. We apologise sincerely to Prince Nayef for the damage and embarrassment which our reporting of it has caused him.

But what did it take for The Independent and Fisk to back down? The BBC takes up the story that The Independent failed to elaborate on:

Saudi Arabia's interior minister has accepted undisclosed damages over an article in The Independent newspaper accusing him of ordering police to shoot and kill unarmed protesters.

The newspaper accepted the "order" it reported was in fact a fake.

Its publishers, Independent Print Ltd, also offered "sincere apologies" to Prince Nayef Bin Abdul-Aziz al-Saud at London's High Court.

Prince Nayef has said he will give the "substantial" damages to charity. …

In the article Mr Fisk said The Independent was in possession of the "extraordinary and outrageous" order from Prince Nayef and said it was "worthy of investigation by the International Criminal Court at The Hague".

The allegation was not put to Prince Nayef, who is also second deputy prime minister and has been interior minister for more than 40 years, before publication, said Mr Earle [representing the prince].

It was reproduced in its entirety on various websites and paraphrased in numerous news stories published by leading Arabic language media, he said.

So let's be clear – accusations of horrendous crimes and the spreading of a libel throughout the Internet, later found to be false. Sound familiar?

In October 2006, Fisk was given the front page of The Independent to spread the libel that Israel had used uranium-based weapons in southern Lebanon during the 2006 war. Like the Saudi order, this accusation was also proven to be false, in this case only days after the story was published.



Yet, we are still waiting for a retraction. The story remains online with no retraction from Fisk and The Independent. It appears that such is their arrogance and lack of journalistic integrity, it takes the bottomless pit of Saudi money and legal action to warrant a correction and apology.

http://honestreporting.com/independent- ... was-false/
He fabricated a story that Israel had used uranium-based weapons in southern Lebanon during the 2006 war. But when he says the Syrian are innocent it's true.