- 14 Jun 2015 14:49
#14569037
Bloomberg wrote:The value of Chinese stocks rose above $10 trillion for the first time, the latest milestone for the nation's world-beating rally.

Companies with a primary listing in China are valued at $10.05 trillion, an increase of $6.7 trillion in 12 months, according to data compiled by Bloomberg.

The gain alone is more than the $5 trillion size of Japan's entire stock market.

The U.S. is the biggest globally, at almost $25 trillion.

No other stock market has grown as much in dollar terms over a 12-month period, as Chinese individuals piled into the nation's equities using borrowed funds to bet gains will continue. Valuations are now the highest in five years and margin debt has climbed to a record, all while the economy is mired in its weakest expansion since 1990.

"This a reflection of the risk-taking attitude of the public," Hao Hong, the chief China strategist at Bocom International Holdings Co. in Hong Kong, said by phone on Sunday. "People are taking on an unreasonable amount of risk for deteriorating economic growth."

Outside of China, investors aren't showing the same enthusiasm toward the nation's equities. Funds pulled a net $6.8 billion out of Chinese stock funds in the seven days through Wednesday, Barclays Plc. said in a research note, citing EPFR Global data. Dual-listed Chinese shares cost more than twice as much on average on mainland exchanges than they do in Hong Kong.

Stock Valuations

MSCI Inc.'s June 9 decision against including mainland equities in its benchmark gauge had little impact on the Shanghai Composite Index, which climbed 2.9 percent last week to its highest level since January 2008. Foreigners are limited by quotas when buying shares in Shanghai via an exchange link with Hong Kong, while similar access to Shenzhen-traded stocks will likely start this year, according to the Hong Kong bourse.

Lex edit: I highlight this because it explains why stocks can be worth twice as much in Hong Kong than Shanghai - normally you could arbitrage the fuck out of that and the prices would equalize, but there are capital controls



The Shanghai gauge has rallied 152 percent in the past 12 months, the most among global benchmark indexes tracked by Bloomberg, and trades at about 26 times reported earnings. Less than a year ago, the gauge was valued at about 9.6 times, the lowest since at least 1998. The Shenzhen Composite Index, tracking stocks on the smaller of China's two exchanges, trades at 77 times profits after surging 194 percent.

Gains have been fueled by speculation the government will take more steps to boost growth. HSBC Holdings Plc predicts a 50-basis-point cut in lenders' required reserves in the "coming weeks," while Societe Generale AG said one more is needed before the end of June. That would be the third reduction this year.

Trading Accounts

While the latest data showed the economy stabilizing, indicators from retail sales to industrial output are still growing near the slowest pace in years and trade remains weak. Exports slumped in May and imports declined for a seventh month.

Profits in the Chinese gauge trailed analyst estimates by the most in six years in 2014 as economic growth slowed to 7.4 percent, the slowest pace in more than two decades.

Mainland investors' fervor for stocks remains undaunted, with a record 4.4 million trading accounts opened in the final week of May, and margin debt on the Shanghai exchange rising to a record 1.44 trillion yuan ($232 billion) on June 11.
Every couple days I read another "Batshit Crazy Numbers In China" story. This one I like: An entire Japan (well, Japanese stock market) has been created in paper wealth in the last year in China.
The same stocks in China are worth twice as much as what they're worth in Hong Kong. If the world were sane, a share of Company X should be worth Y yuan in Hong Kong and Y yuan. A ruthless and cynical arbitrageur would sell the stock in China and buy it in Hong Kong, the prices would converge, and the arbitrageur would walk away with a risk-free profit and people would complain about how much money he makes. But this does not happen because China has huge walls of capital controls (that they are carefully dismantling) that prevent that trade.
There are stranger ones: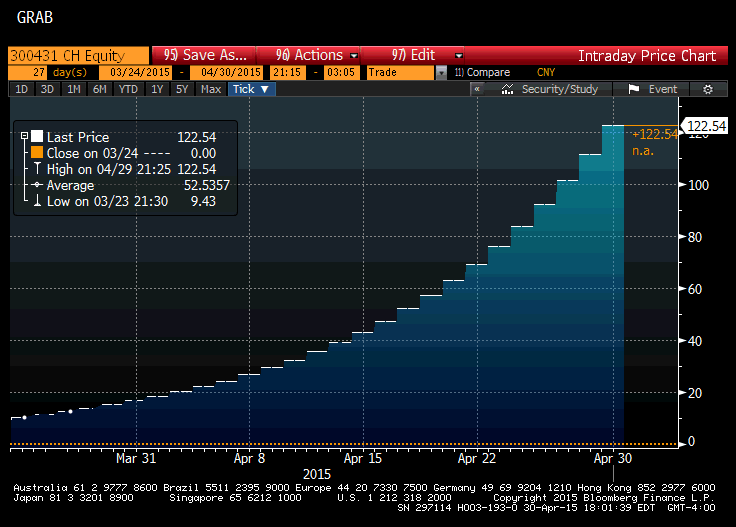 This is a hilarious chart of Beijing Baofeng, a Chinese technology company that went public in March. Every single day it has gone limit up (that is, it has gone up as far as the stock exchange's rules will allow it). It has gone up 42-fold since March. This is not the natural order of things. When a company goes public in a well-ordered market, it should come within, say, an order of magnitude of its fair market price.
There is the sad story of
Zhuhai Zhongfu
, which bottles Coca Cola in China. The company soared 126% just this year. The company then defaulted! The stock price had no relation to the company's actual value whatsoever (it even makes Western traders blush).
The reason for this craziness - and I have not seen anyone describe this as sustainable - is that China is on the one hand attempting to maintain growth, and on the other hand restrain a bubble that it correctly sees. The problems is that these two goals are directly at odds with each other. China continues to pump money into a slowing economy to keep it growing, which comes in the form of debt. That wall of money keeps getting pushed around as China clamps down regulations on various parts of its financial system - first, it tightened down on traditional lenders, so the money moved into less-regulated "shadow banking" wealth management products. Then they clamped down on shadow banking, and the huge wall of money moved into stocks, which is the most volatile of traditional financial instruments. It's like getting a wrinkle out of a sheet - you push it down here, it just moves over, then you push it over there, it moves further, you push it down, it moves back where it was.
This has led to even fancier products as regulators move this wrinkle around.
Preferred stocks are fertile ground for the imaginations of bankers. They occupy a purgatory between the sylvan, idyllic, dare I say bucolic worlds of bonds, stocks, and first-generation derivatives. It is a Hieronymus Bosch painting of chimeras and monsters to satisfy all desires both subtle and gross. They are the wave-particle duality of finance; they embody a quantum superposition of equity and fixed income features. They come from the fever dreams of bankers imbibing the fine opiates of Tartary and there is nothing more dangerous in heaven or hell than a financial engineer with a vision.
And there are
$53 billion
of them in China whose sole purpose is to fool accountants into thinking they are stocks when they are not, that they are bonds when they are not. This is the froth of a massive financial bubble the likes of which the world has never seen.