- 23 Jul 2013 10:29
#14276732
Figlio di Moros wrote:It's a misnomer money was "wasted"- it denotes it being of an exhaustible supply. It isn't- see MMT. However, yes, NASA is doing amazing things w/ .5% of the Federal budget; I'd like to see what they could do w/ 5%.
I meant that we wasted funds, resources, manpower, lives on trivial wars in the Middle East when we could've used those same resources and manpower for a project to put man permanently beyond this planet, which needs to happen eventually, and the sooner the better. This is of course how the world operates, but it is still a shame nonetheless.
Thank you, it'd be nice if we had more people thinking this way. The most extraordinary vision we see today is to reach Mars in 20-25 years... We can do better than that.

I don't believe the whole solar system is viable yet, but certainly the inner solar system is easy pickings. Setting up bases in the right place will certainly help us extend our focus outward.
Since the colonization of space is an inevitability for our species, it should be our top priority. I know I've repeated that statement perhaps twice already, but I feel like I can't really stress it enough. This, however, seems to be the prevailing attitude: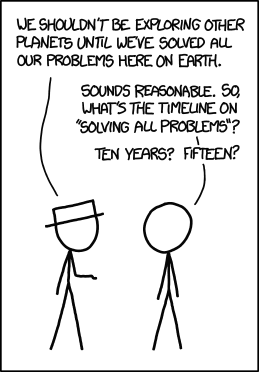 It is within our technical prowess to conduct a manned expedition to Mars in 10 years, but we simply need a government with the willingness to do so. I believe this was reported elsewhere here, but there is at least growing interest in
establishing a permanent human presence on the moon
, which is at least a good first step.
I don't believe that'll happen, but I believe we did discuss gene-culture coevolution. We won't genetically engineer ourselves to be perfect Martians, but we'll terraform planets to the best of our ability and evolve as a result of both space travel and the pressures of living in new environments. Not everyone is fit to get off this planet; they're not inteligent or productive enough for more advanced technology, they can't handle a broad enough spectrum of g's, their body atrophies quicker, they can't handle high pressure or low oxygen atmospheres, etc. Future humanity will, naturally, be the decedents of astronauts.
I don't agree with you on bioengineering for a few reasons. While I don't expect vast numbers of people to undergo genetic alterations on themselves and their progeny or grow wings and hollow bones for personal flight, terraforming planets is far more costly, resource-intensive, technologically demanding, and time-consuming than applying medical and scientific advances to the human genome to volunteers, explorers, and people willing to diversify the human race. We probably will attempt to introduce an Earth-like atmosphere to Mars, but it will be a time-consuming venture that probably will take centuries, if not longer. If a very thin oxygen atmosphere can be established early on, and human habitation is simultaneously a fact of life on Mars, don't you think that Martians will have a need and a reason to accept genetic alterations to adapt to a low oxygen atmosphere that even the hardiest humans could never survive in? If other environments throughout the solar system can be established, but where an adaptability towards survival in a hot/cold environment would be critical, some might choose to adapt to those conditions as well. Certainly on worlds with atmospheres different from Earth's, like Venus or Titan, it would be beneficial for colonists to adapt their physiology to breathe the native air.
After all, terraforming, establishing artificial satellites, creating magnetospheres, and interstellar travel is just as if not actually more complex than genetic engineering; genetic engineering/bioengineering is just as realistic, and seems far more efficient in the long run. The history of Earth includes a vast amount of evolutionary divergence, with explosions of diversity helping to create a more vibrant, rich biosphere. There have accordingly been multiple species of humans. For hundreds of thousands of years, the human race has more or less been largely the game from a physiological standpoint with some notable differences. For tens of thousands of years, there has essentially been only one human species, and the rest have gone extinct. What I think the future holds will be an explosion of life and evolutionary divergence. It will not just be the colonization of the galaxy, spreading ourselves across planets, asteroids, moons, comets, and all the empty places between the stars, but a radical diversity of the human race. Many humans, strange and different, will populate the galaxy should we survive long enough to establish ourselves off this planet. A thousand years, let alone a million years, of scientific progress and mastering our genetics is a long time. I think that as some reshape planets to mirror Earth, others will see that as a stagnation. There are many people I think would be willing to undergo radical changes to propagate humanity throughout the stars, despite how strange and unique that human life might look like.
Someone once said that billions of years from now, when our sun grows cold and dies, the creatures living on Earth staring up at the dying sun won't be human by any measurable standards. Our future in space, colonizing distant and remote places will give rise to countless wonderful and strange forms of life that may still see each other as brothers and sisters, but no longer the same recognizable humans in such a vast, adapting mass of humanity.
"I don't know if you're a detective or a pervert."
"Well, that's for me to know and you to find out."
[ Forum Rules ][ Newbie Guide ][ Mission Statement ][ FAQ ]