By
Morgan Le Fey
- 25 Jan 2023 01:37
- 25 Jan 2023 01:37
#15263039
Headline: Mine
https://www.bbc.com/news/world-us-canada-41488081
Actual BBC Headline:
Gun deaths in US and what the numbers tell us
BBC wrote:

Gun violence is a fixture in American life - but the issue is a highly political one, pitting gun control advocates against sectors of the population fiercely protective of their right to bear arms.

We've looked into some of the numbers behind firearms in the US.



Mass shootings on the rise



There have already been dozens of mass shootings across the US so far this year, with California experiencing two of the most high-profile in January.

Figures from the Gun Violence Archive - a non-profit research database - shows that the number of mass shootings has gone up significantly in recent years.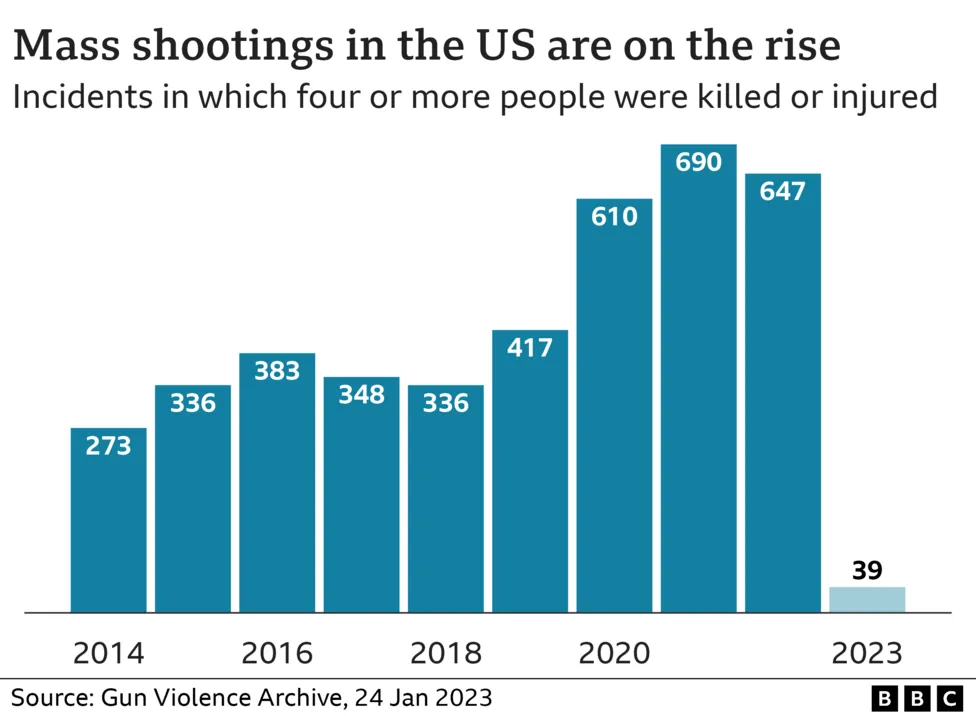 BBC wrote:

In the last three years there have been more than 600 mass shootings - almost two a day on average.

While the US does not have a single definition for "mass shootings", the Gun Violence Archive defines a mass shooting as an incident in which four or more people are injured or killed. Their figure includes shootings that happen both in homes and in public places.

The deadliest such attack, in Las Vegas in 2017, killed more than 50 people and left 500 wounded. The vast majority of mass shootings, however, leave fewer than 10 people dead.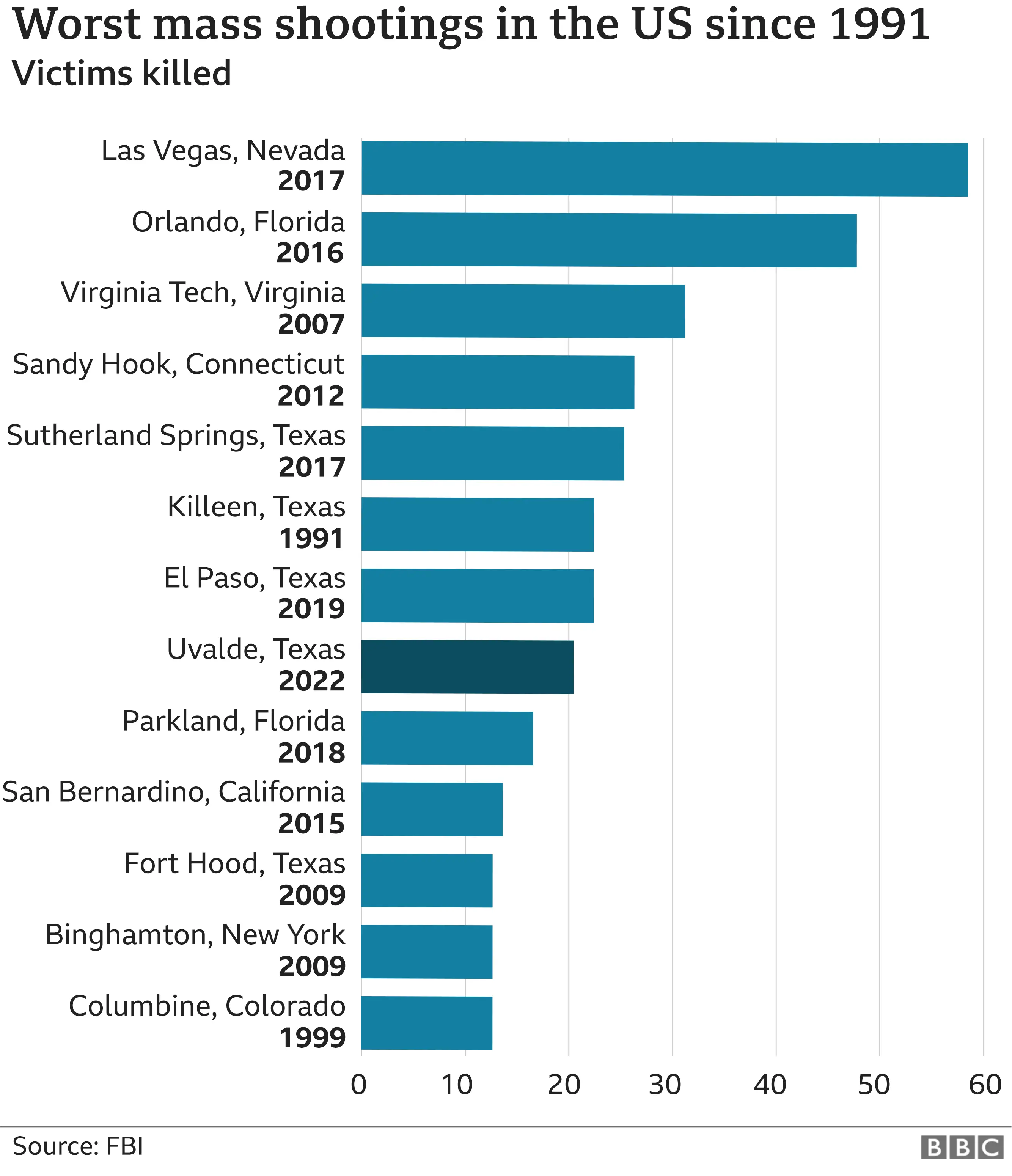 BBC wrote:

How do US gun deaths break down?



According to the US Centers for Disease Control and Prevention (CDC), a total of 45,222 people died from gun-related injuries of all causes during 2020, the last year for which complete data is available.

And while mass shooting and gun murders generally garner more media attention, of the total, more than half were suicides.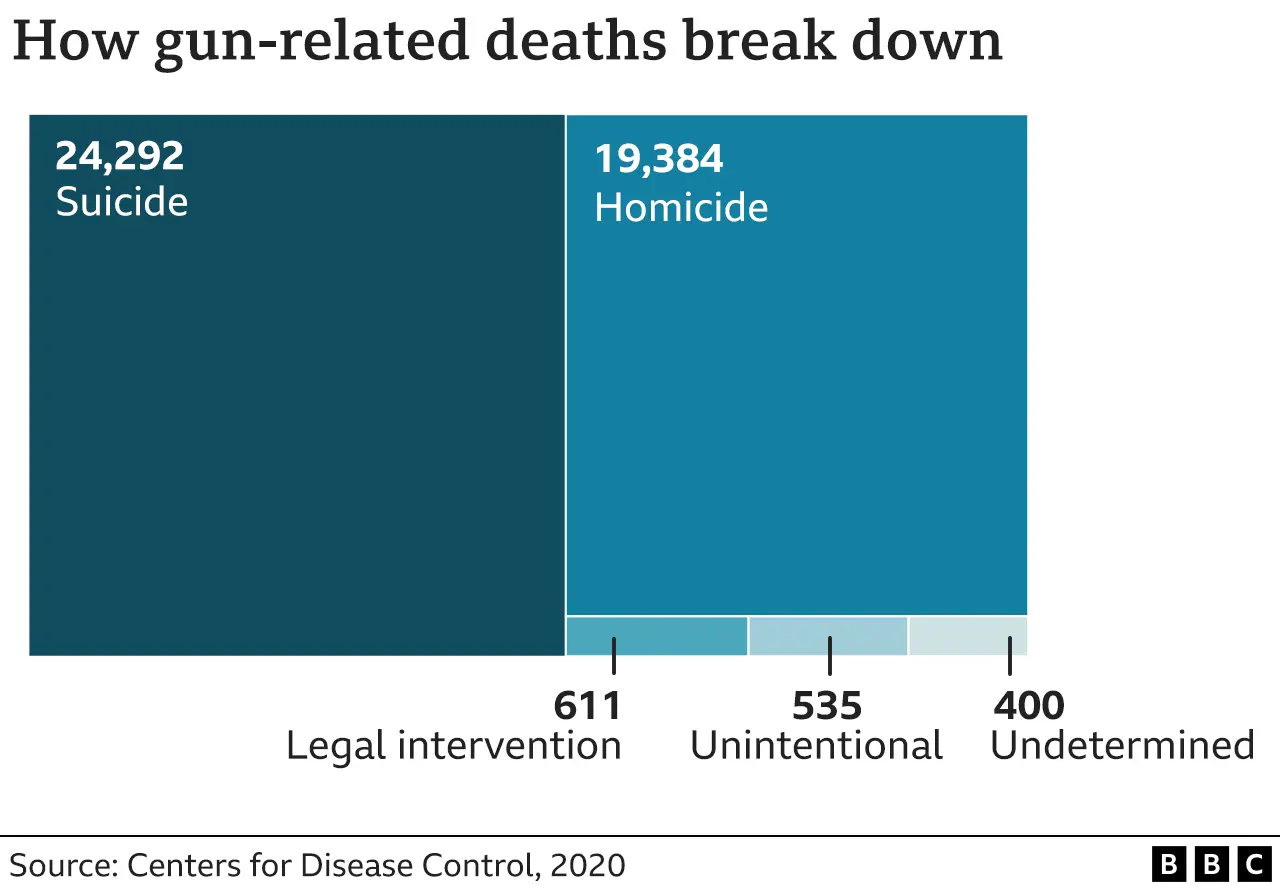 BBC wrote:

In 2020, more than 19,000 of the deaths were homicides, according to the CDC. The figure represents a 34% increase from 2019, and a 75% increase over the course of the previous decade.

The data also shows nearly 53 people are killed each day by a firearm in the US.

That's a significantly larger proportion of homicides than is the case in Canada, Australia, England and Wales, and many other countries.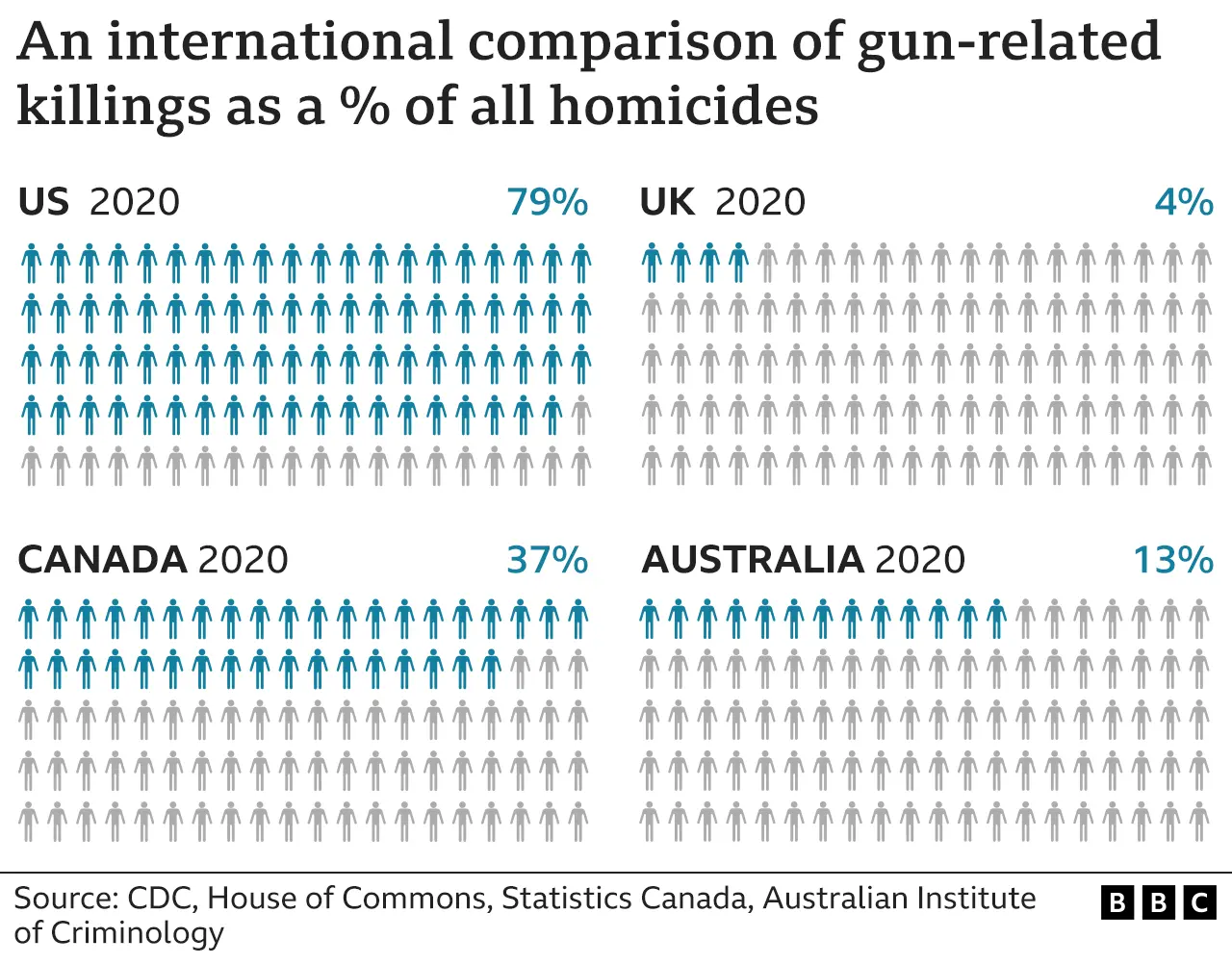 BBC wrote:

How many guns are there in the US?



While calculating the number of guns in private hands around the world is difficult, the latest figures from the Small Arms Survey - a Swiss-based leading research project - estimate that there were 390 million guns in circulation in 2018.

The US ratio of 120.5 firearms per 100 residents, up from 88 per 100 in 2011, far surpasses that of other countries around the world.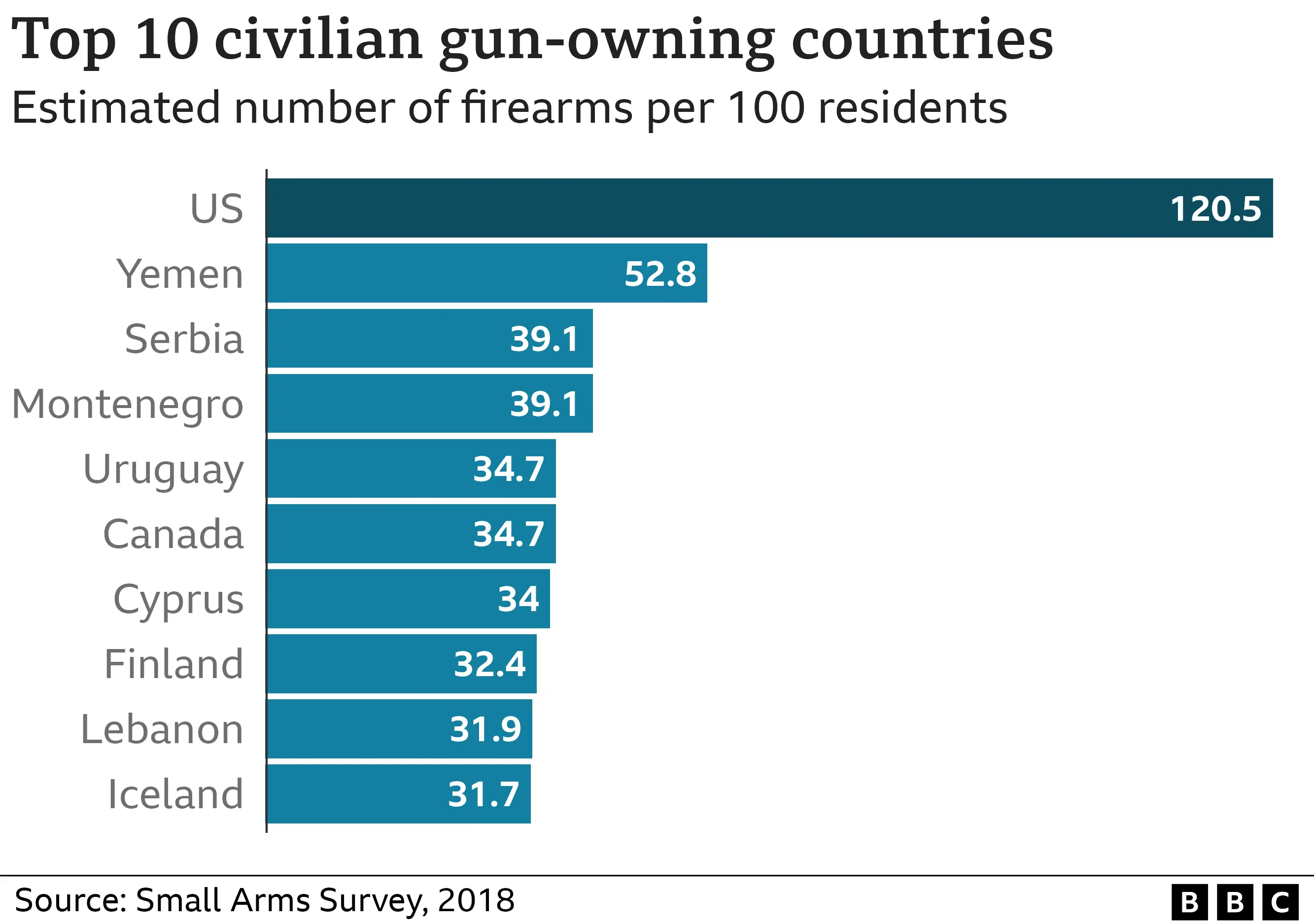 BBC wrote:

More recent data out of the US suggests that gun ownership grew significantly over the last several years. A study, published by the Annals of Internal Medicine in February, found that 7.5 million US adults became first new gun owners between January 2019 and April 2021.

This, in turn, exposed 11 million people to firearms in their homes, including 5 million children. About half of new gun owners in that time period were women, while 40% were either black or Hispanic.



Who supports gun control?



Despite widespread and vocal public outrage - often in the wake of gun violence - support for stricter laws fell last year, although a majority of Americans are still in favour, according to polling by Gallup.

57% of Americans surveyed said they wanted stricter gun laws, while 32% said they should remain the same. Ten percent surveyed said laws should be "made less strict".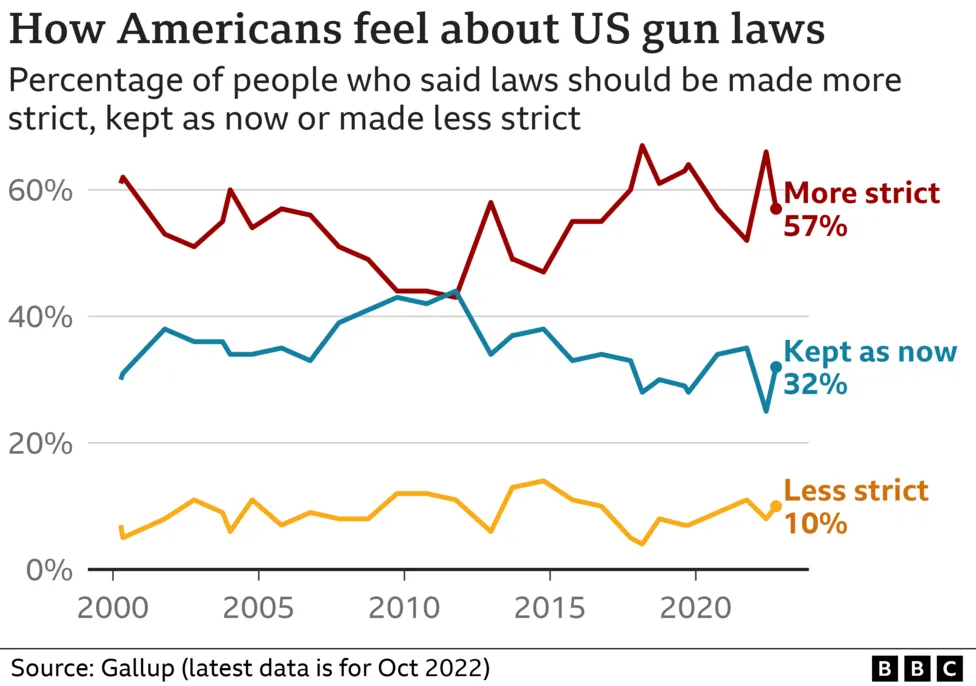 BBC wrote:

The issue is extremely divisive, falling largely along party lines.

"Democrats are nearly unanimous in their support for stricter gun laws," another Gallup study noted, with nearly 91% in favour of stricter gun laws.

Only 24% Republicans, on the other hand, agreed with the same statement, along with 45% of Independent voters.

Some states have taken steps to ban or strictly regulate ownership of assault weapons. Laws vary by state but California, for example, has banned ownership of assault weapons with limited exceptions.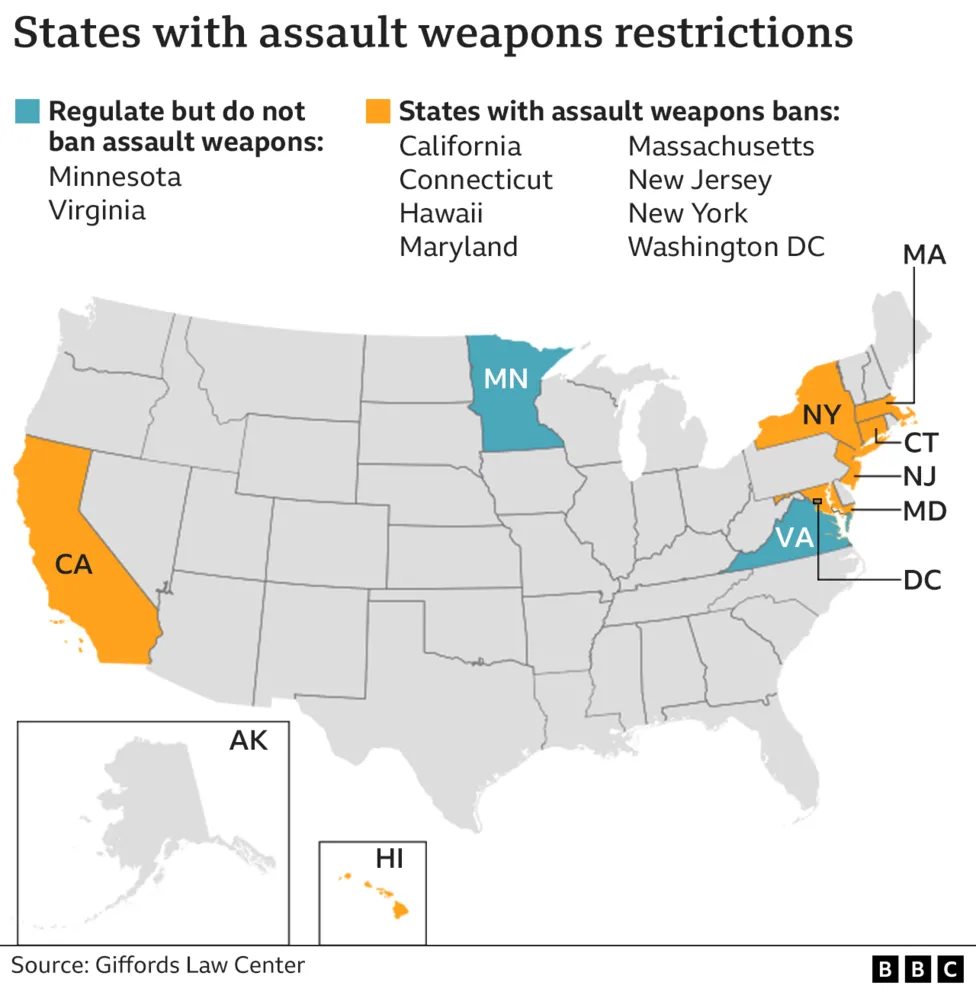 BBC wrote:

Some controls are widely supported by people across the political divide - such as restrictions governing the sale of guns to people who are mentally ill or on "watch" lists.



Who opposes gun control?



Despite years of financial woes and internal strife, the National Rifle Association (NRA) remains the most powerful gun lobby in the United States, with a substantial budget to influence members of Congress on gun policy.

Over the last several election cycles, it, and other organisations, have consistently spent more on pro-gun rights messaging than their rivals in the gun control lobby.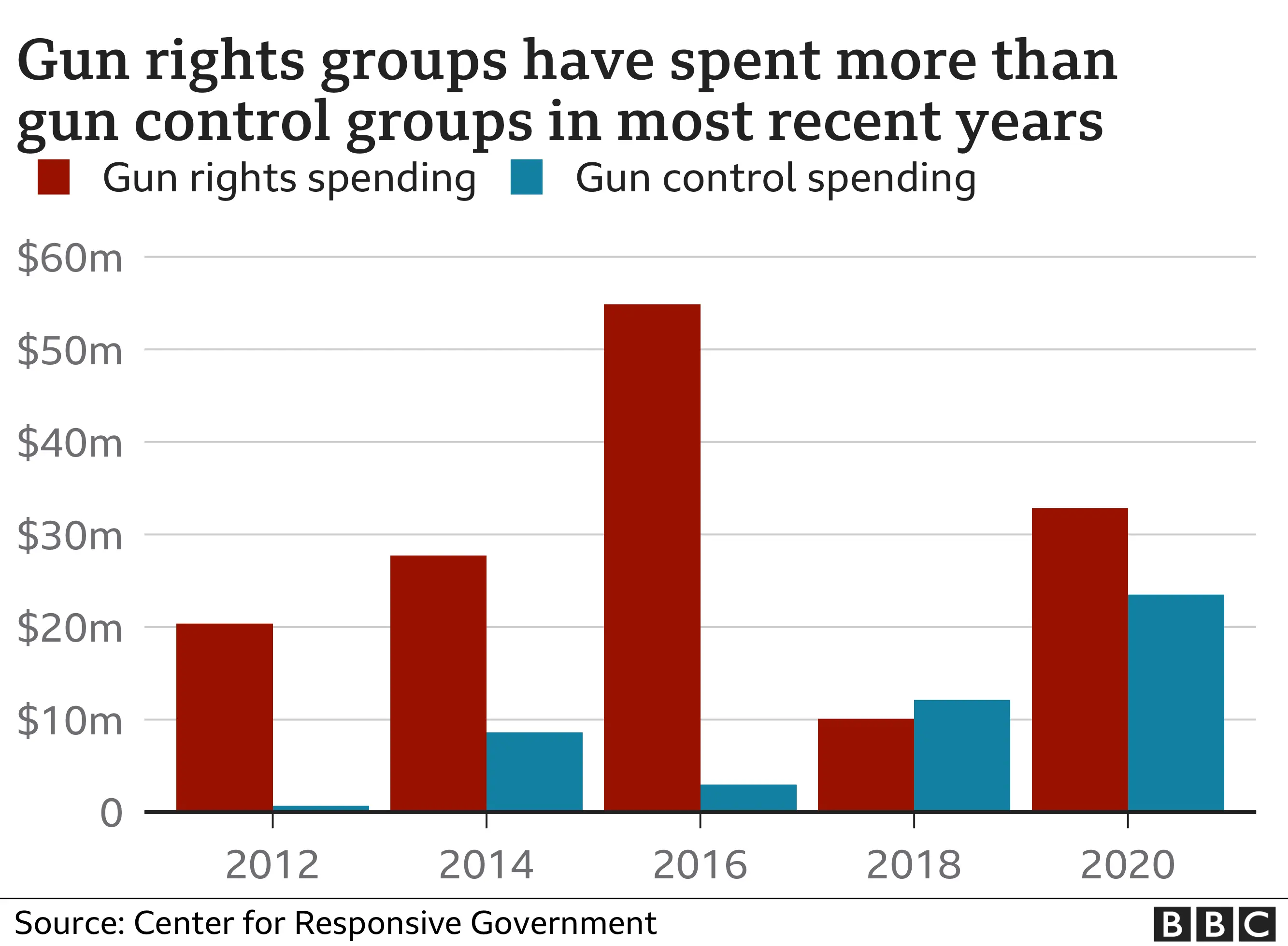 BBC wrote:

A number of states have also gone as far as to largely eliminate restrictions on who can carry a gun. In June 2021, for example, Texas Governor Greg Abbott signed into law a "permitless carry bill" that allows the state's residents to carry handguns without a licence or training.

Similarly, in April last year Georgia became the 25th in the nation to eliminate the need for a permit to conceal or openly carry a firearm. The law means any citizen of that state has the right to carry a firearm without a licence or a permit.

The law was backed by the NRA, and leaders within the organisation called the move "a monumental moment for the Second Amendment".
Highlights:
* Gun deaths in the US have been on a major upswing since the pandemic began
* Mass Shootings are *almost an American Phenomenon.
* Institutional Gridlock and entrenched political positions have led to ZERO meaningful responses in preventing "The next one".
No one asks, Why does the US create mass shooters?
1. Society is a joke and mass shooters know it, and say "fuck it".
2. US "Culture" is largely banal and meaningless. It's also a "Bully Culture" and victims of that are often scarred for life from it. Scars breed violence.
3. Families are isolated from one another relative to other times in history. This reduces necessary human support systems for those experiencing "stressful" or otherwise mental health-related crises.
4. Widely available guns, whether legal or illegal with few controls and no political will to suggest the situation is abnormal and is easily fixable in all other countries.
5. A lot of people simply enjoy the carnage and don't want it to stop.
6. The gun lobby spends a shitton of money lobbying Republican members of Congress. While they give to some Dems, it's one of the few Lobbys that is far more specific to one party than the other. (Most will pay both sides so they win either way).
7. Democrats all or nothing approach is more harmful and negates chances for real compromise amongst less well-paid non-NRA Republicans.
The widespread use of Permaculture and the elimination of lawn grass would offset global warming but then Capitalists couldn't sell you food excess.