By
Russianbear
- 10 Sep 2021 03:41
- 10 Sep 2021 03:41
#15189620
Caitlin Johnstone*: Australia's not a free country. State surveillance and autocracy are rife because we have no bill of rights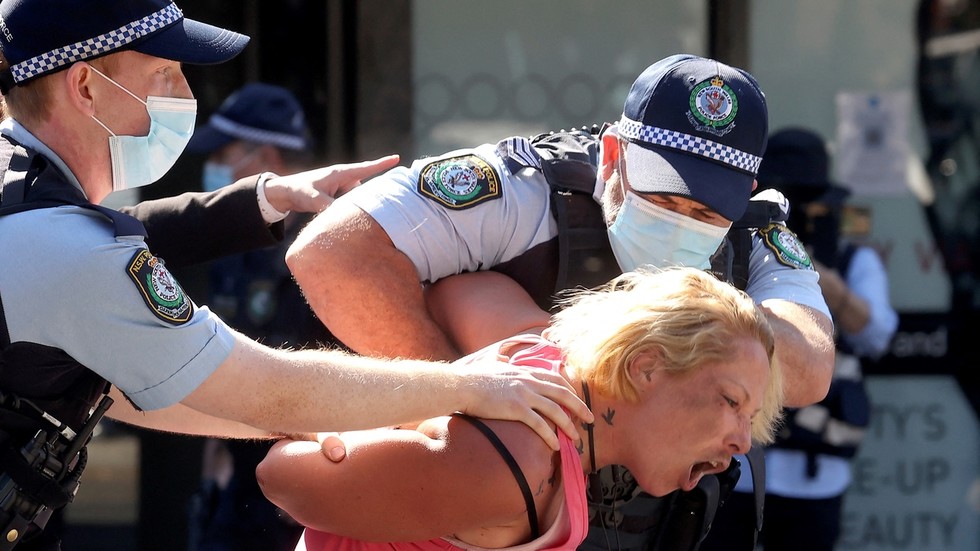 *By Caitlin Johnstone, an independent journalist based in Melbourne, Australia.
The Australian government has been on the receiving end of more and more criticism for its Covid response lately, not just domestically but from overseas.
There's a lot to criticize, from soldiers patrolling state borders and policing the streets of Sydney, to people being arrested for merely posting about lockdown protests on social media, to police accessing QR-tracing information and firing projectile weapons at lockdown protesters, to news broadcasters naming and shaming Covid patients who violate isolation orders, to the frequently ineffective hotel quarantine system for travellers being replaced with purpose-built quarantine facilities and Orwellian surveillance apps. The states of both Victoria and New South Wales have begun moving toward reopening after the Delta variant proved zero-Covid goals unattainable even amid strict lockdowns, but will do so by adding Australia to the growing list of nations that have implemented the dangerously authoritarian policy of vaccine passports.
Also on rt.com How Australia's zero-covid strategy turned into a total shambles thanks to our inept leaders
And there are other aspects of this trend that have nothing to do with Covid. One of the most controversial recent developments in Australia's escalating government overreach (and potentially the most consequential in the long term) has been the hasty passing of a new law greatly expanding government surveillance powers, which allows law enforcement to hack into people's devices and collect, delete, or even add to and alter the data therein, as well as take control of their social media accounts, supposedly "in order to frustrate the commission of serious offences online."
Critics tend to lump this sweeping surveillance state escalation in with authoritarian policies related to the pandemic, but the bill makes no mention of Covid; its proponents cite its utility in fighting terrorism and child exploitation. Indeed this bill, which will certainly lead to myriad abuses, is just the latest in a continuing expansion of government surveillance powers in Australia that has been going on for years. This video from The Juice, for example, was made in 2018, criticizing Canberra's assault on encryption:
n reality, while the pandemic has certainly been a major factor in exacerbating civil rights erosion, Australia's Covid response has simply added to a problem that had already existed and was only getting worse. The 2019 report by Civicus Monitor, a global research group that tracks fundamental freedoms in 196 countries, downgraded Australia from an "open" country to one where civil space has "narrowed," citing new laws to expand government surveillance, prosecution of whistleblowers, and raids on media organizations.
And this ongoing trend can be largely traced back to the fact that Australia is the only so-called democracy in the world that has no national charter or bill of rights of any kind. A tremendous amount of faith has been placed in state and federal legislators to simply do the right thing, which has proved foolish and ineffective. Professor George Williams wrote for the Melbourne University Law Review in 2006.
Australia is now the only "democratic" nation in the world without a national bill of rights. Some comprehensive form of legal protection for basic rights is otherwise seen as an essential check and balance in democratic governance around the world. Indeed, I can find no example of a democratic nation that has gained a new Constitution or legal system in recent decades that has not included some form of a bill of rights, nor am I aware of any such nation that has done away with a bill of rights once it has been put in place.
Why, then, is Australia the exception? The answer lies in our history. Although many think of Australia as a young country, constitutionally speaking, it is one of the oldest in the world. The Australian Constitution remains almost completely as it was when enacted in 1901, while the Constitutions of the Australian states can go back as far as the 1850s. The legal systems and Constitutions of the nation and the Australian colonies (and then states) were conceived at a time when human rights, with the prominent exception of the 1791 United States Bill of Rights, tended not to be protected through a single legal instrument. Certainly, there was then no such law in the United Kingdom, upon whose legal system ours is substantially based. This has changed, especially after World War II and the passage of the Universal Declaration of Human Rights, but, by then, Australia's system of government had been operating for decades.